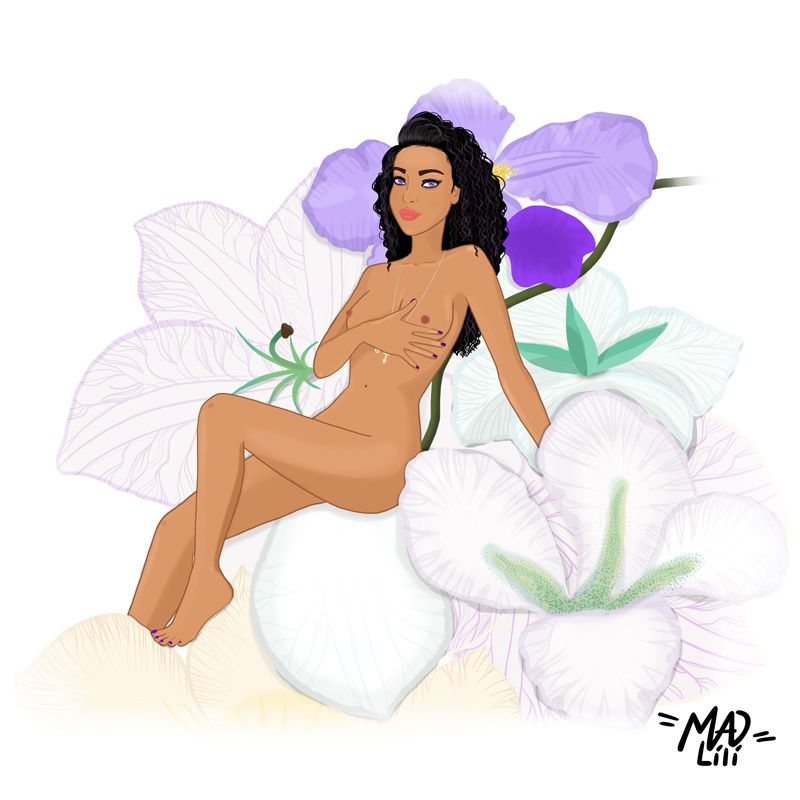 (see below for english version)
​
Ça faisait un moment que je voulais reprendre la pochette d'album de Lovesexy. Puis j'ai repoussé et aujourd'hui je l'ai fait en hommage à l'artiste qui a le plus compté dans ma vie.
Je n'ai pas un souvenir d'enfance ou d'adolescence sans une chanson de Prince qui trotte dans ma tête.
L'un de mes souhaits les plus cher en grandissant était de le voir en concert. Je l'ai fait et je garderai en mémoire ces précieux instants. Il était prévu qu'il revienne en décembre dernier pour un concert piano-voix à l'Opéra Garnier, j'étais heureuse à l'idée de le revoir. C'était avant les attentas du 13 novembre, il avait changé d'avis entre temps. Je ne le reverrai plus. Il nous reste son héritage, sa musique, son talent, son génie, sa voix, ses clips, ses pas de danse sexy, sa liberté mais aussi son sens de l'humour. Merci Prince Rogers Nelson.
Les mots ne traduiront pas ma peine mais c'est déjà un début de l'exprimer.
Il a sublimé la femme que ce soit dans des clips comme The One, pour n'en citer qu'un; ou dans ses textes, j'ai en tête The Most Beautiful girl in the world mais aussi avec la pochette mythique de Lovesexy sur laquelle Prince opte pour une pose lascive et féminine sous l'oeil de Mondino.
Merci encore et
Repose en Paix Kid,
Sometimes it snows in April...
it's been awhile that I wanted to draw Lovesexy cover album. Then I pushed to later and today I did a tribute to the artist who counted most in my life. I do not have a childhood or teens memories without a Prince song that keeps running through my head.
One of my dearest wishes growing up was to see him live. I did it and I will keep in mind these precious moments. He was scheduled to return in Paris last December for a piano-voice concert at the Opera Garnier, I was happy at the thought of seeing him again. That was before the Paris attacks of November 13, he had changed his mind in the meantime. I will never see him again. It remains his legacy, his music, his talent, his genius, his voice, his music, his sexy dance moves, his freedom but also his sense of humor. Thank you Prince Rogers Nelson.
The words do not translate my pain but it is a start to express it.
He sublimated the woman whether in music videos such as The One, to name one https://www.youtube.com/watch?v=4WD50gTtJoE or in his texts, I have in mind The Most Beautiful girl in the world but also with its Lovesexy cover album which Prince opts for a feminine and lascivious pose under the eye of photographer Mondino.
Thank you again and
Rest in Peace Kid,
Sometimes it snows in April ...